Jeans are relatively noticeably heavier than other types of clothing. Most Jeans can weigh about 0.7 pounds to 0.9 pounds. In this article, I will cover the weight of the jeans, the material used until their history.
Jeans are arguably a very popular fashion item. Everywhere in the world, we can see people wearing jeans. 
There are many reasons people choose jeans because it is simple, fashionable, durable, and suitable to be worn by men and women of all ages. 
People chose jeans because they are durable and easy to mix and match with various outfits worn at casual or semi-formal events.
The history of jeans began hundreds of years ago. In 1871, the first jeans were made and launched. In contrast to current conditions, at that time, jeans only had one color, indigo. The choice of indigo color is not without reason.
They chose the indigo color because jeans were worn by mining workers who were generally men. Because the Indigo color can 'disguise' dirt and stains that stick when they have to work in mining, so it is chosen.
As we know, jeans are made from a distinctive fabric, denim, which has the characteristics of being strong, not easy to tear, durable, and has a fairly smooth surface. 
Denim fabric for jeans that we know today comes from the cotton twill type. The name denim originally comes from the French "Serge De Nimes," which means Serge of Nimes. Serge itself has the meaning of strong cloth material.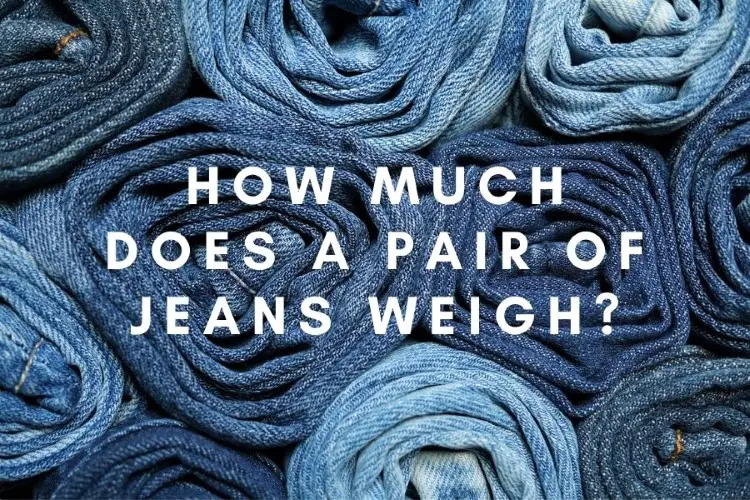 Do you know how much a pair of jeans weighs?
Initially, Denim fabric was developed for workers in mining. However, nowadays, Denim fabric has been used for various products, and almost everyone can wear it. In addition to jeans, various products are made using this material, such as bags, shoes, shirts, etc.
This denim fabric makes jeans feel heavier than pants made from other fabrics such as cotton or polyester. But most jeans normally weigh around 0.34 to 0.45 kg or about 12 to 16 ounces.
The denim material in jeans is made of materials with different weights. The measure of weight in denim is called Oz. Weight below 12 oz is called light denim, and above 16 oz is called weight denim. 
Meanwhile, the jeans on the market are denim with a size of about 12-16 Oz. These numbers represent the weight per yard of denim fabric.
For jeans that are light with a fairly smooth material and have a slightly thin texture, they generally weigh 12 ounces or 0.34 kg. As for jeans that are quite thick, the weight can reach 16 ounces or 0.45 kg. This size difference often makes someone feel that the jeans they wear feel light or heavy.
Jeans themselves have many models that both men and women can wear. One that is quite popular and hype nowadays is a trend is skinny jeans. This type of skinny jeans is known for its tight silhouette following the shape of the leg.
Then there is another type of straight jeans with a straight cut, not too tight and not too loose, so it is very comfortable to wear. Besides that, there are also models of wide-leg jeans, boyfriend jeans, flared jeans, distressed jeans, and many others.
Jeans Weight Frequently Asked Questions
How much does an average pair of jeans weigh?
The average pair of jeans weighs about 0.7 pounds to 0.9 pounds (0.34 kg to 0.45 kg). Heavyweight jeans can weigh more than 1 pound, whereas lightweight jeans weigh roughly 0.75 pounds.
How much do Levi 501 weigh?
Levi's jeans won't weigh more than 12 ounces.
How much does a pair of jeans weigh for shipping?
Heavyweight jeans can weigh more than 1 pound, whereas lightweight jeans weigh roughly 0.75 pounds.